Not sure if SoftWave is right for you? Take it for a test drive with our $49 Discovery Session!
Tissue Regeneration Technology in Waterbury, CT
Acousana is a state of the art, revolutionary treatment for both acute and chronic pain. Using sound waves (SoftWave Technology) to stimulate the body's natural healing response, the treatment is non-surgical, outpatient, and painless, getting you back to living life pain free.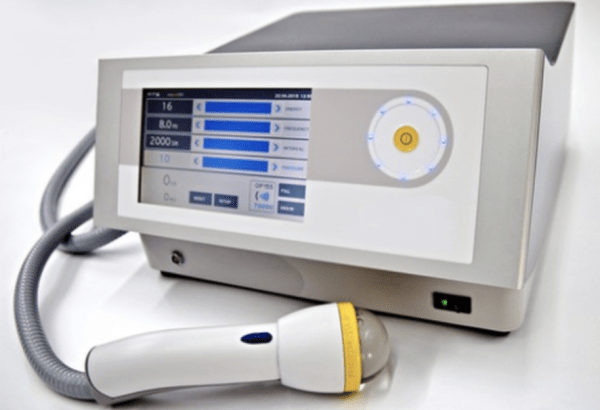 How it Works
Acousana uses patented SoftWave technology to send acoustic waves deep into the tissue of the affected area. While it causes no real damage, it makes the body think it has been injured, and all natural response mechanisms kick in. The result: more bodily resources flood to the affected area, such as blood, nutrients, and stem cells.
Even after treatment sessions have ended, the body keeps working to heal the treated area — as a result, circulation is improved and inflammation is reduced to promote a longer lasting improvement in pain levels. Over 90% of patients report a marked improvement in pain after the very first treatment session.
Who can benefit from SoftWave Therapy?
Extracorporal Shockwave Therapy (ESWT) can be used to treat a number of conditions. If you have any of the conditions listed, it's very likely that this technology can be used to relieve your pain.
Knee Pain
Shoulder Pain
Back Pain
Elbow Pain
Arthritis
Muscle Pain
Carpal Tunnel
Neuropathy
Ligament Damage
Plantar Fasciitis
Tendinitis
And More…
SoftWave vs. Other Treatments
| Benefits: | Acousana® | Opioids | Surgery | Injections |
| --- | --- | --- | --- | --- |
| Over 80% Success Rate | | | | |
| No Major Negative Effects | | | | |
| Non-Invasive | | | | |
| Treats the Root Cause | | | | |
| No Medication Required | | | | |
| Minimal Downtime | | | | |
| Non-Addictive | | | | |
| 100% Natural | | | | |
Frequently Asked Questions
What's the difference between Acousana, SoftWave, ShockWave, and Regenerative Therapy?
All of these terms are used interchangeably to describe the treatment being done – the ones above are listed from specific to general. Acousana is a SoftWave treatment option; SoftWave is a form of ShockWave that uses sound waves instead of electricity to provide the impulses; and regenerative therapy describes all treatments that help the body's natural regenerative processes.
Does treatment hurt?
The treatment itself is completely painless and involves no injections, maneuvers, or high-pressure adjustments – it's about as painful as touching or applying light pressure to the affected area.
Will I need to go to a hospital or surgical center?
The entire treatment process is 'outpatient', meaning all treatments can be done right from our office in Waterbury, CT. No need to visit any hospitals or surgical centers, and you can go home immediately following your treatment session.
How many treatment sessions do I need?
The exact number of treatment sessions varies depending on the person's response to SoftWave therapy as well as the location and severity of the injury. Dr. Albino will discuss your specific treatment plan during your introductory visit.
Is SoftWave treatment safe?
Yes! SoftWave technology has been cleared by the FDA for use against both acute and chronic injury, backed by decades of research from scientists around the world. Read More about SoftWave Research
How much does it cost?
A series of treatments is only a fraction of the cost of surgical procedures or other regenerative therapies, such as stem cell injections. The exact cost will vary based on how many treatment sessions are needed and will be discussed at your introductory evaluation with Dr. Albino.
New patients are able to try SoftWave with no obligation through a $49 disovery session. If you or Dr. Albino are not satisfied with the results, you won't be locked in to a full treatment package. Learn More
Don't Take Our Word For It
SoftWave TRT has been successful in relieving acute and chronic pain for years. Check out some testimonials from our patients to see what level of treatment Albino Chiropractic Center is bringing to Waterbury.
Not sure if SoftWave is right for you? Take it for a test drive with our $49 Discovery Session!
Get started on the path to Better Health.
Want to set up an appointment or get more information? Fill out the form below and a member of our staff will be in touch with next steps. Please do not submit any Protected Health Information (PHI) through this form.
Office
1052 Chase Parkway
Waterbury, CT 06708
Saturday : Appointment Only